Description
"…My face doesnt feel tight at all after cleanse and feel v moisturised!"

"The foam is rich and smooth!
Face felt clean and moist!"

"Received the product very promptly and well packaged. Like the feel of the cleanser"


"Have tried the green tea cleanser, nice fragrance and leave smooth touch to the skin"


"Have use the cleanser and feels quite good on my face. Face feels clean after using."

"… I am really impressed with the use of the Canadian pore cleanser. It really helps my skin condition."

"The stick foundation was thick and natural and smells very nice also."

"I already test BB stick then it's very smooth and can cover my large pore…"

"Tried the Rose Water, love the finishing. Non Greasy"

"Neogen Bio Peel Wine smeel fantastic even my kids love the smeel and keep asking to smeel my face. LOL My complexion looks cleaner and more radiant the following day"

Description:
Gentle exfoliating pad that offers all the benefits of chemical and mechanical exfoliating in one. It provides gentle yet effective exfoliation of dead skin cells and impurities. (30 pads)
Product Details:
• Lactic acid (AHA) penetrate deep into your pores, to clean out dead skin cells and debris that can clog pores
• Blended with Green Tea Extract that helps tighten pores & prevent melanin production
• Contains Centella Asiatica Extract to enhance skin firmness & repair skin damage
• Dead skin cells are sloughed off the surface of the skin using the unique 3 layer pad technology
• Skin appears visibly clearer, smoother & moisturized
• Dermatologist tested & Perfect for all skin types
How to use:
1. After cleansing, slip your fingers into the sleeve of the gauze peeling wine pad so that the criss-crossed gauze side is facing down. Use gentle, circular motions all over a dry face and neck, working your way up to your forehead.
2. Rotate the pad so that quilted side is facing down. Swipe the softer side across the face to pick up the remaining debris.
3. Rinse with lukewarm water.
SOLD OUT IN KOREA !!

SOLD OUT IN USA !!!!!
EXPORT PRICE: SGD39.90

BIO- PEEL GAUZE PEELING WINE
200ml – 30 COUNTS
(3 MONTHS USE)
100% NO ARTIFICIAL FRAGRANCES OR COLOURINGBIO- PEEL GAUZE PEELING LEMON
200ml – 30 COUNTS
(3 MONTHS USE)
Gentle exfoliating pads that offer all the benefits of chemical and mechanical exfoliating in one. It provides gentle yet effective exfoliation of dead skin cells and impurities.(30 pads)
*Product Details:
• An express skin-resurfacing & peeling treatment
• Lactic acid (AHA) penetrate deep into your pores, to clean out dead skin cells and debris that can clog pores.
• Contains Lemongrass to revitalize skin
• Formulated with Lemon Extracts with vitamin C to brighten skin
• Dead skin cells are sloughed off the surface of the skin using the unique 3 layer pad technology.
• Leaves skin soft, smooth, even-toned & translucent
• Dermatologist tested. Perfect for all skin type

OUR RECOMMENDATION
(1) A NON MAKE UP USER: you should use bio peel as a cycle below
– 3 times on 1st week
– 2 times on 2nd week
– 1 time on 3rd week
– 3 times on 4th week
Total: 9 pieces for 4 weeks, 1 bottle can last for 3 months.
(1 month = $10.96)
(2) A MAKE UP USER: you should use bio peel as a cycle below
– 5 times on 1st week
– 3 times on 2nd week
– 2 times on 3rd week
– 5 times on 4th week
Total: 15 pieces for 4 weeks, 1 bottle can last for 2 months.
(1 month = $16.45)
WATCH ME!

WHY WE LOVE BIO – PEEL?
(1) EASY & FAST THAN USUAL SCRUBS!
(2) HIGHLY EFFECTIVE THANKS TO ITS AMAZING TRIPLE THREAD PAD TECHNOLOGY
(3) SMELLS GOOD !! LIKE SWEET GRAPES!
(4) BOTH MECHANICAL (CRISS-CROSSED THREADS) & CHEMICAL EXFOLIATION (LACTIC, GLYCOLIC ACID) ROLLED INTO ONE. DOUBLE TASKING!
(5) THE RESULTS! Brighter, softer, skin that doesn't leave skin feeling tight and stripped of moisture. Perfect step for that dewy, radiant glow !!
KOREAN ACTRESS/MODEL
LEE HA NUI'S SKINCARE ROUTINE 


WITH OUR EFFECTIVE NEOGEN BIO PEEL, NO MATTER HOW OLD YOU ARE & NO MATTER HOW MUCH DAMAGE HAS ALREADY BEEN DONE TO YOUR SKIN, YOU CAN HAVE YOUNGER- LOOKING SKIN IN A VERY SHORT TIME !!

DO YOU KNOW OUR SKIN RENEW ITSELF EVERY 28 DAYS??
IT GOES THROUGH THE
"LIVE & LET DIES"
SKIN RENEWAL PROCESS

IF WE DO NOT REMOVE DEAD SKIN, IT WILL CONTRIBUTE TO
(1) BREAKOUTS
(2) ACNE MARKS
(3) LARGE LOOKING PORES
(4) DULL & UNEVEN SKIN TONE
MAKEUP CAN HELP A LITTLE BIT, BUT IT DOESN'T ADDRESS THE UNDERLYING PROBLEM
WE MUST REMOVE DEAD SKIN SO THAT NEW SKIN CAN
BE REPLACED !!!
If you don't like the skin looking back at you when you look in the mirror, it's time for you to EXFOLIATE !!

OUR BIO PEEL IS MORE THAN
AN EXFOLIATOR


A COTTON PAD THAT USES THE LATEST SKIN CARE TECHNOLOGY TO CREATE A TRIPLE LAYER EXFOLIATING FUNCTION
(NO OTHER PRODUCT HAS THIS TECHNOLOGY)


Remember how clear & tidy your brows were after threading? Neogen's Criss-crossed side mimicks the same concept !!!


1st Layer : Criss-crossed side


The threads remove dead skin cells super gently, cleanly, easy and efficiently!!

2nd Layer : Cushion pad
The second layer (middle) is a very soft cushion that absorbs the formula and helps dispense it on your skin!
It is super soft and hence does not cause any skin stimulation!!
3rd Layer : Quilted Side


Quilted layer designed to pick up any remaining debris.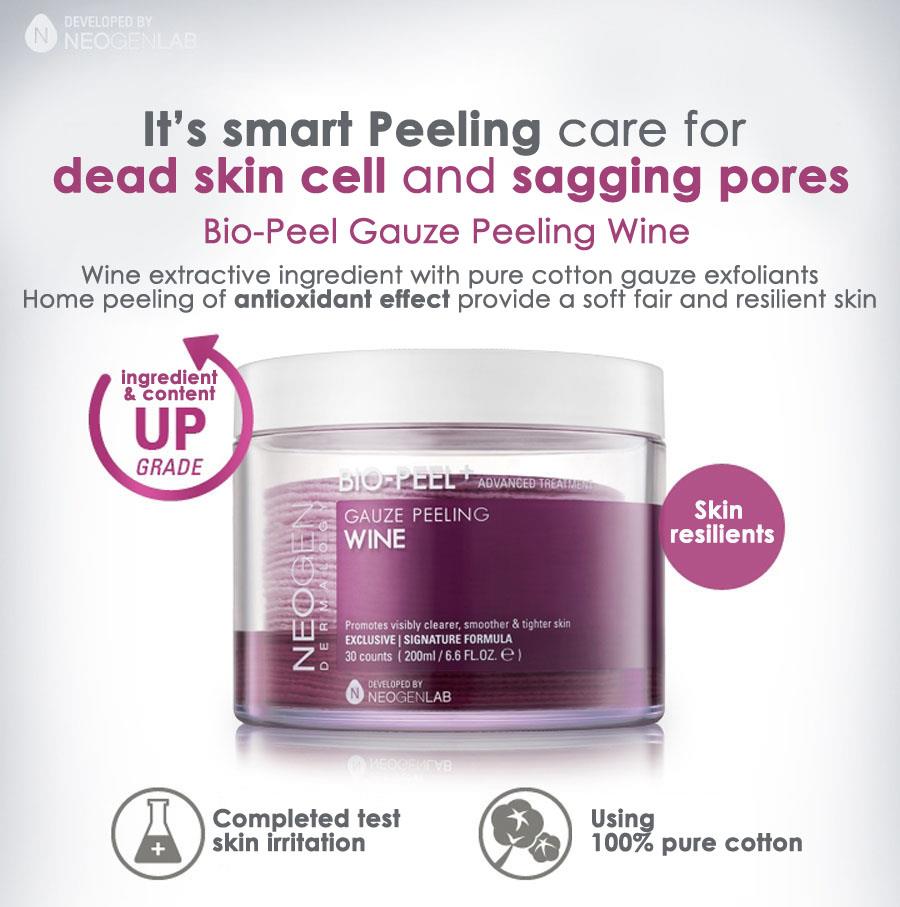 100% NO PHOTOSHOPCASE 1
CASE 2
CASE 3